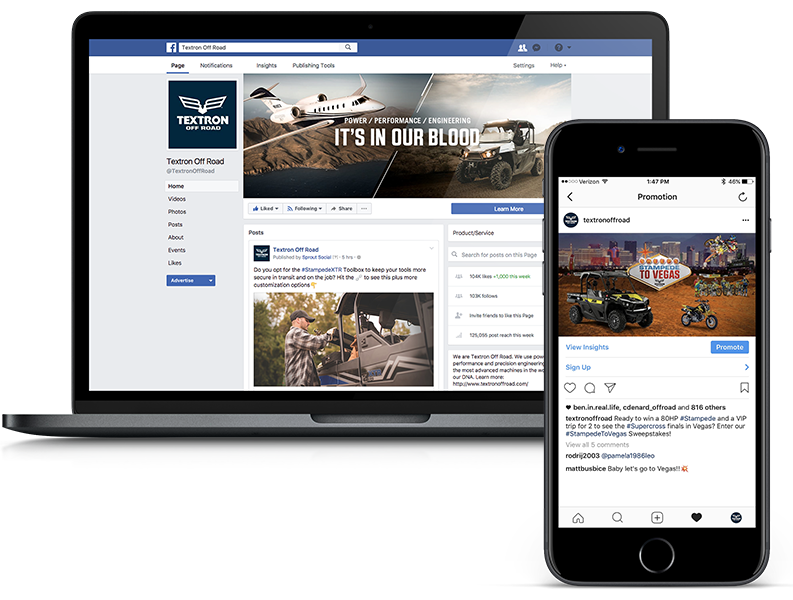 Social Media Marketing & Services
Today, the social media networks have reconfigured their platforms to reward brands that play by their rules. And that's where we come in. Using data, insights and technologies, The Armory tactically executes social media strategies that are driven by business objectives. Whether that is for sales, dealer traffic, website visits, brand engagement, or overall awareness, The Armory's expertise brings a fresh approach to social media execution focused on showing measurable lift for our clients.
Successful social media marketing goes way beyond simply posting to the platforms. The kind of 'social media' that impacts a business in a powerful way blends technology, optimization, content and strategy every single day. This is what we do.
CONTENT PLANNING & STRATEGY
Social Media Advertising
We are algorithm geeks. And that's a good thing when it comes to Social Media Advertising. We know our way around the social media ad offerings, using our experience in this ever-growing pay-to-play platform, and maximizing ad performance via the various ranking algorithms. We're optimizing campaigns on the daily while understanding how to keep the algorithms happy. What does this all mean? Results, results, results.
Video Production
With social media networks now optimizing video above every other form of content, video content is no longer a luxury, it's a necessity. The Armory is equipped in-house with the types of camera assets and brain power that blend creativity, strategy and content into one enjoyable libation. From concepting and planning, to filming and post production, we have you covered.

EDITING, VO, SPECIAL EFFECTS
LIVE PRODUCTION
With hundreds of live production hours in the can, we're ready to direct and produce your live content for network TV or Social Media.

EPISODIC PROGRAMMING
From reality shows to magazine-style programming, we write it, shoot it, edit it, and deliver it.

EVENT PRODUCTION
From small static displays to large 50,000+ attended festivals, The Armory's experiential team has concepted it, designed it, built it, and produced it. Our approach to events goes beyond the brand experience and dives into guest data, social media content, real-time broadcasting, and attendee tracking.
ON-SITE PRODUCTION & MANAGEMENT